Current location: News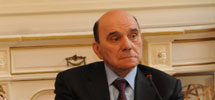 Honourable Presidents,
I want to bring to your attention a matter that can throw a grave shadow over the nature and objectivity of the European Parliament. I ask for your attention and answer on this issue.
Over the past years, the relations between the Republic of Azerbaijan and the European Union were supposed to see a rise in their quality, in the context of the Eastern Partnership Initiative of the EU. At parliamentary level, the Euronest Parliamentary Assembly was supposed to bring us closer. It is unfortunate, therefore, to see that the President of the European Parliament, Mr. Martin Schulz, is adopting a biased attitude against Azerbaijan. It casts a shadow over the whole EP.