Suleymanov Elkhan Sirac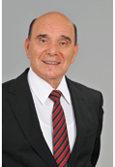 Brief information on life and activity of the candidate
SUEYMANOV ELKHAN SIRAC
standing for Milli Mejlis (Parliament) of the Republic of Azerbaijan from Shamakhi Constituency number 85
Suleymanov Elkhan Siraj was born in Hajali of Goychay region in 1940. He graduated a seven-year education and afterwards he was enrolled the program of primary school teacher of Pedogogical College of Goychay region. He graduated the program in 1958. He continued his education in the cultural-education program of the Institute of Azerbaijan State Theatre in 1961-1966. Elkhan Suleymanov was engaged in teaching while studying in the institute, and worked as a teacher in the secondary schools number 7 and 25.
 E.Suleymanov was appointed a director of Fioletov club of Trade Union Committee of Food Industry Workers of Trade Union of the Republic in 1966. He performed his duty until 1979. Thanks to his extensive activity the club became the center of culture and art. Numerous famous cultural workers, musicians, composers and singers started their activity in this club and their performance extended to the whole part of Azerbaijan.
As an organizor and philanthropist E.Suleymanov's activity has always been inseperable from culture, art and education. He became a director of the House of Writers of the Union of Writers in Shuvalan district between 1981-1982. He worked as a director of "Azeratraksion" under the Ministry of Culture between 1982-1985. Later he continued his acticvity as the director of Nizami cinema from 1985 to 1989.
E. Suleymanov spent his 23 years working in the fields of culture, art, and did his best to improve Azerbaijani cinema. During these years he created favorable condition for the talented youth and supported them. It is worth noting E.Suleymanov's contribution to the field of cinema. He was one of the organizors of prestigious international cinema festival in 1987, and to this end, Nizami cinema was reconstructed under his leadership and became one of the cultural centers.
As an outcome of E. Suleymanov's charitable activity many literature, fiction, and scientific books have been published and distributed to readers.
Elkhan Suleymanov was a head of the Azerbaijani department of Russian-American University during 1990-1998. E.Suleymanov was actively involved in the provision of wide variety of food products and hundred thousand tons of sugar and grain to people in 1990-1993 when the country was in a state of war and in a transitional period.
E.Suleymanov created pomegranate garden in Goychay, Agsu, Kurdemir and Bilesuvar. Moreover, he had the roads renovated, had the water pipes and canals fixed,  and ultimately maintained more than 850 family with jobs.
E.Suleymanov continued his late grandfather Haji Rahim Afandy's activity who was a famous philanthropist and educationist in Shirvan. He had the monument for Azerbaijani poet Ali Karim and martyr Ismet Gayibov erected in Goychay, had the historical mosque in Garaman renovated and had a seven kilometer road constructed, rendered assistance to more than 300 martyr families and provided 150 excellent students in Goychay schools with stipends during 1993-1996. Furthermore, he rendered assistance to the Azerbaijani youth who continued his/her education in Azerbaijan or in the U.S. and Europe, and moreover he assisted to our citizens in their treatment.
E.Suleymanov established the Assistance to Civil Society Association in Azerbaijan and numerous projects have been implemented under his leadership. "Khodgaly Tragedy", "Khodgaky Tragedy: million signature – one demand", "Shusha-historical Azerbaijani land", "Two Photo Conversation on a Tragedy", and "Historical facts against Armenian myth" have been published in a book and sent to U.S. and European parliaments and to famous libraries worldwide.
One million signature of Azerbaijani citizens have been assembled within the "Khojaly tragedy: million signature-one demand" project and has been published as a book and submitted to the Parliaments of great powers. Testimonies of witnesses of Khodgaly Tragedy have been assembled and published in Azerbaijani, English, and in Russian.
On the Eve of the 60 year anniversary of the victory over fascism contributions of the Azerbaijani capital during the Second World War have been disseminated to the world community within the "Baki-heroic city" project. The Institution has also been involved in the election and referendum observation and exit poll, and moreover, it has implemented a wide range of projects related to human rights, right of expression, economy, ecology and Caspian Sea and eventually organized international conferences. Thus, the Assistance to Civil Society Association in Azerbaijan has been involved in a multiple projects that create positive image on Azerbaijan and advance with confidence in developing the civil society.
Elkhan Suleymanov went on vocation on November 7, 2010 with regard to his candidacy in the forthcoming elections.